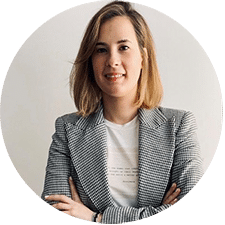 Cristina Romera
Abogado Senior
Legal Counsel, GDPR & ICT Regulation. Contract managing
I have more than six years of professional experience in providing specialised advice in the field of New Technologies Law, covering aspects relating to the contracting of computer products and services, E-Commerce, Data Protection, Intellectual Property and Electronic evidence, having advised the main technological companies of our Country.
I have been involved in advising numerous innovative and pioneering projects in the provision of certifcation services and trusted third parties.
Hands-on experience designing, drafting, implementing, reviewing and negotiating commercial contracts based on both, Civil and Common Laws, including technology License & alliance partner agreements.
Commercially minded, focused customer approach and ability to conduct business from the legal and corporate perspective with high level of integrity and team building spirit.
Legal and risk management advice together with Project transactional management and support in relation to sales, supplier and partnership contracts.
Legal support of product legal compliance.
IT/Technology contracts in particular software and Data Licensing.
Framework/Master Agreement contracting/RFP's/Reseller Agreement/ Non disclosure Agreements.
Legal assessment of new products and services from a regulatory perspective Data Protection/GDPR matters (Data Processing Agreements in particular)
Supervise and advise on regulatory legislation on information and communication technologies (including cybersecurity). Currently involved in ISO 27001 and ENS Certification Projects.
Supervise the contracting process to ensure compliance with the organization's contractual guidelines, compliance with client specifications and adherence to the organization's policy.
Act as a liaison between the organization and customers/suppliers, including participation in pre-contract discussions, contract clauses, negotiations and contract changes.
Assess the risk of commercial contracts.
I participate in the process of adaptation of several Companies and Insurance Companies to the general regulation of data protection (Helvetia, among others).
E-Trust Services: Involvement in Regulatory Compliance (AML/KYC, SEPBLAC, eIDAS) in electronic signature projects, certificates and videoID solutions from qualified trusted service providers.
Experiencia profesional:
Trebia Abogados (desde enero de 2015 – actualidad)
Auditaser (noviembre de 2014 – enero de 2015 )
Echevarría Asociados y Asesores, S.L. (junio de 2012 – marzo de 2014)
Brenes Abogados, S.L.P (abril de 2010 – agosto de 2012)